When we're out to buy razors, there are a lot of factors we take into consideration that help us with our purchasing behavior. We use these factors to guide us to make decisions that will satisfy our needs and, most commonly, our pockets.  If we're to ask the most common factor we use when choosing a product, I think it's already apparent. 
Among all the factors, we hail 'budget' on top of everything. We always want to be frugal first before being efficient in anything. It sometimes presents disadvantages eventually, but let's be honest, it's undeniably true. We always want to have a good deal off of anything we give our money to, especially disposable razors.
This is something that men, who prefer disposable razors, can agree with. With disposable razors, an average user would go for whatever is easy to use, quick, and cheap. Function and practicality come first. And with anything that's bare-bone comes low prices. So if we're talking about low prices, how low is low-priced in terms of disposable razors? We'll find out.
But if you're a straight razor user, it'll definitely cost you less if you learn this straight razor guide first.
The Cost of Disposable Razors on Average
Obviously, we cannot take into account every single brand. But because we aim to find out the average cost of disposable razors, we can observe from the leading and most used models of disposable razors on the market. These are the models men always use when opting for disposable razors. With disposable razors effectively working up to a general maximum of four shaves per piece, on average, a disposable razor would cost $1.20. 
If that's the average cost disposable razors retail in common, what then are the cheapest brands of disposable razors? In this read, we will see the most bought disposable razors from brands Gillette and BIC. As a disclaimer, the experience these reviewed products give will still be highly dependent on the area you will be using it on. The main focus is to provide us with the leading brands of disposable razors patronized by most of us men for their proficiency-to-price balance on average. Take note of on average. 
The Cheapest and Most Bought Disposable Razors
Gillette and BIC are well-known brands in the industry of shaving. But for the frugal, what can we expect from these brands that will satisfy the pockets? Let's get into those one-by-one. Here are the cheapest disposable razors that you should check out.
Gillette Mach 3 Sensitive
Gillette Mach 3 Sensitive is undeniably one of the most popular models from a broad lineup of Gillette disposable razors, and for all the convincing reasons. Gillette Mach 3 Sensitive offers you an impressive shaving experience, shaves closely and works fast. One of its benefits is the rareness of clogging when used. Even with a medium coat of hair, Gillette Mach 3 still works just as efficiently as with a thin layer of hair without getting all clogged up. This Gillette disposable razor offers impeccable smoothness, efficiency and assures you not to betray your trust for only $2.32 per piece in packs of three.
Gillette Sensor 3 Comfort
Does it live up to its name? Well, according to users – yes. Gillette Sensor 3 Comfort guarantees excellent money-value to whoever uses it. Together with its highly commended ergonomic design, you'll be experiencing little to no cuts, less skin irritation, and close, smooth shaves. Once you try it, you might even hang on to it for years. This Gillette disposable razor definitely does not disappoint and lives up to its claim regarding comfort, even if you shave with no shaving agents – imagine! Great money-value, smart design, little to zero cloggings, and faultlessly comfortable to use for only $1.49 per piece in packs of four.
BIC Flex 4 Sensitive Hybrid
The first in this review's entry for BIC disposable razors, the BIC Flex 4 Sensitive Hybrid offers a good physical design. The handle is made of plastic with its non-slip material well received by many, offering you easy use and a comfortable hand feel. Despite its four-bladed design, on average, clogging is no issue even with frequent use. For some, this can even be considered a worthy substitute for women's razors. Above all of the advantages it offers to its users, this BIC disposable razor leads intermediate experience with a low at $1.30 per piece in packs of four.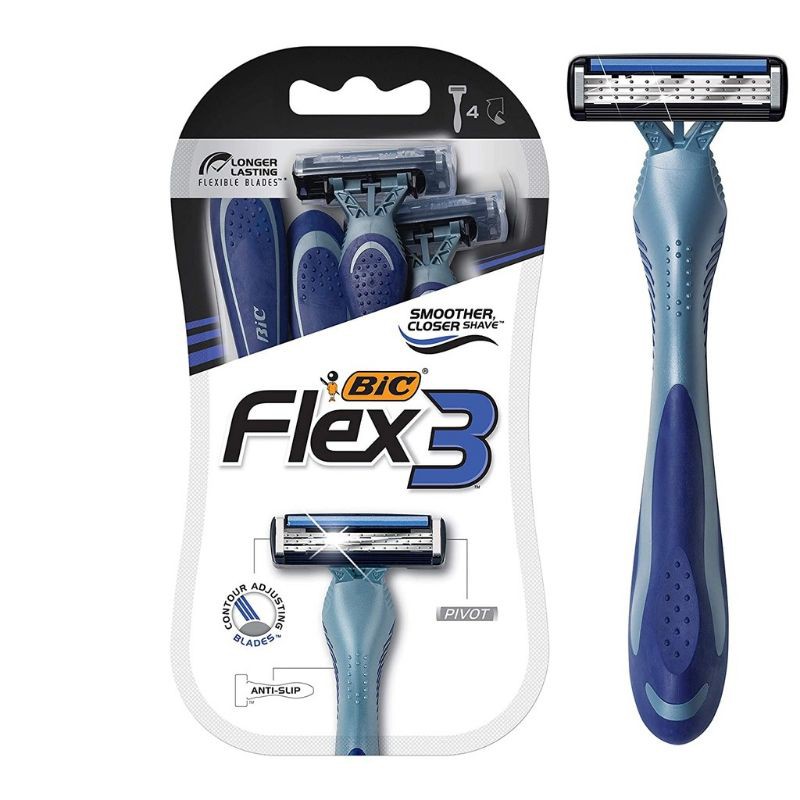 Now, the last but definitely not least is the BIC Flex 3. This razor is a three-bladed razor that offers you a smooth and close shave. Even though shaving under the skin is sometimes frowned upon, this BIC disposable razor gets its users' approval.  Nicks and cuts will always be there, but if you want an option that will give you so much less of that and cost, BIC Flex 3 is well-received for comfort and price. It is reviewed as the safest three-bladed razor option for sensitive skin, providing you a smooth shave finish costing only $1.30 per piece in packs of four.
If you've gone tired of disposables, invest in a good straight razor and start reading this guide.
Louie is the father behind the travel blog Browseeverywhere.com. He has a background in photography, E-commerce, and writing product reviews online at ConsumerReviews24. Traveling full time with his family was his ultimate past-time. If he's not typing on his laptop, you can probably find him watching movies.