Best Time To Visit Neemrana Fort Palace
Since Neemrana is set amidst greenery, the weather here stays pleasant throughout the year. But, if you want to plan an ideal getaway with amazing weather, try visiting during July to March. The monsoon here is quite refreshing and soothing, whereas the winter season is delightful.
Neemrana Fort Palace Entry Fees And Timings
If you're planning a Neemrana Fort day trip on a weekday, the Neemrana fort resorts entry ticket is around INR 1,700 between 9:00 AM and 2:30 PM, which includes a delicious lunch buffet (INR 1,416) and entry (INR 284) in the package. However, if you're planning to visit on a weekend, Neemrana Fort Palace fees is for INR 2,000 which includes your entry ticket for INR 584 & lunch for INR 1,416 between 12:00 PM to 2:30 PM. These packages include entry and lunch for one person or lunch and are 100% adjustable against the room tariff. Neemrana Fort booking can either be done through their own website or any other hotel booking website.
The timings to visit the fort palace are between 9 AM to 3 PM. However, you can also plan an overnight stay here by staying in one of the best rooms in Neemrana fort palace. Make sure you keep the Neemrana Fort Palace timings in mind and leave the palace well in time if you do not plan to spend the night here.
About Neemrana Fort Palace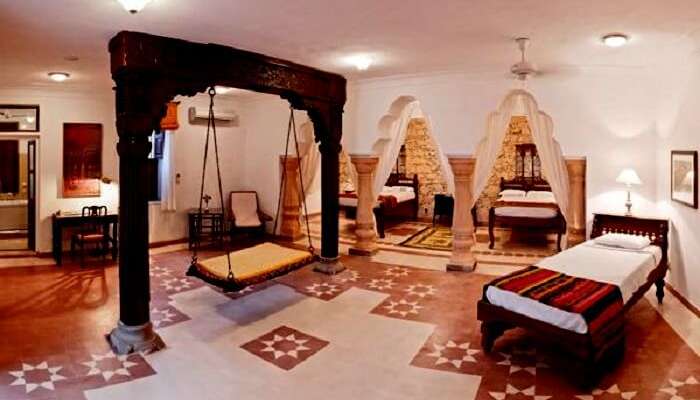 One of the oldest heritage luxury hotels, Neemrana Fort images gives you idea of its exquisite beauty. It is a beautiful amalgamation of history and modernity. Spread over six acres and 12 levels, Neemrana Fort location will make you fall in love with this place. Some of the most amazing ones are the Deva Mahal, Uma Vilas, Hara Mahal, Chandra Mahal, Francisi Mahal, and Sheela Mahal. A single occupancy room's tariff is INR 4500 plus taxes and a double occupancy and more occupancy room's tariff starts from INR 7,400 plus taxes to INR 35,000 plus taxes. The tariff for accommodation at the palace may vary at times depending on a special occasion or season like the New Year's eve.
Neemrana Fort Palace rooms are beautiful. It boasts two restaurants, two outdoor pools, a fitness centre, spa services, a bar and cafe', free Wi-Fi, and free self-parking. While the rooms have classy minibars and coffeemakers along with other facilities. For readers, there is a library, and for everyone else, there is a free hearty breakfast.
What makes this resort uber exquisite is the absence of mainstream TV and room service facilities. This heritage property makes sure your getaway is worth the time and good value for money. So indulge in a never-ending conversations, take a dip in the pool, visit the nearby places, and spend all the time with your loved ones.
How To Book A Room In Neemrana Fort Palace
The bookings for a weekend stay can be made by contacting their centralized Delhi office which can be reached through reservations@neemranahotels.com or through other travel and tour websites to enjoy an exclusive discount.
With conference rooms and beautiful grounds, you can also book a place in the palace for special events and meetings. In fact, you can also book a place for a wedding in Neemrana Fort Palace. The Neemrana fort palace food price is also decent.
Things To Do In Neemrana Fort Palace
Wondering what all you can do at the Neemrana Fort Palace in Rajasthan? There are myriad experiences that await you inside this ancient palace overlooking the gorgeous city skyline. A stay at Neemrana fort offers amazing excursions along. Scroll down for the best Neemrana Fort Palace activities
For more info mail us: info@speora.org